Every year over Labor Day weekend, fans flock to the Budweiser Made in America music festival, a two-day event put on by Roc Nation – the entertainment company founded by Jay Z. As usual, this year's impressive lineup of artists, including Rihanna, Coldplay and 2 Chainz, generated a lot of excitement and a huge turnout.
But, with crowds can come chaos. Like most large-scale events, music festivals are often plagued with long lines, whether for ticketing, restrooms or getting something to drink. Then there's the confusion around where to go, keeping up with changes in set times and locations and trying to get cell service in a sea of other concertgoers trying to do the same. The good news is that, as technology continues to evolve, it's presenting new and exciting opportunities for reshaping the music festival experience – not just for the fans, but for sponsors and concert-organizers as well.
For the past four years, Budweiser, the title sponsor of this event, has leveraged LISNR's Smart Tones software in its dedicated festival application. Using embedded technology and inaudible sound waves, the app enables guests' mobile devices to "hear" tones, transmit data instantly and receive highly relevant notifications and smart messaging content.
What does this mean?
For businesses: the ability to achieve more passive brand engagement.
For fans: getting the exact information they need, right when they need it.
For everyone: a more connected and enjoyable music festival experience.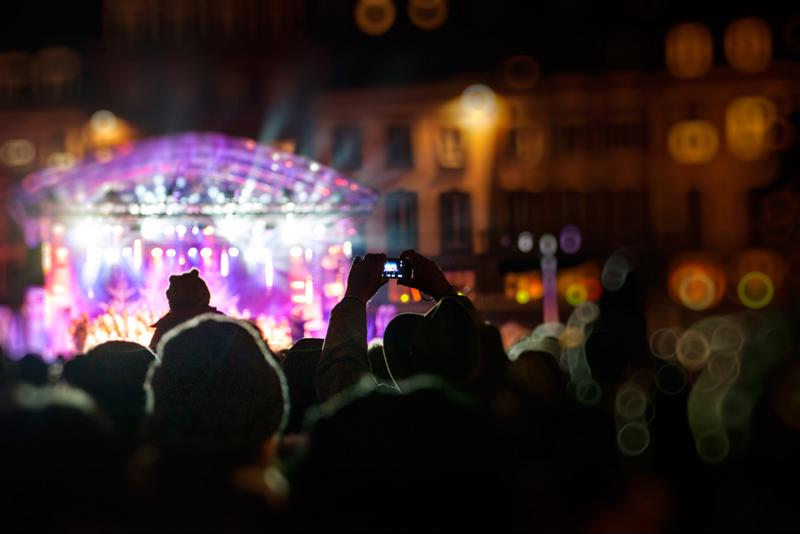 Transforming ticketing and point of sale
Tickets are very important for festivals, but they can also be a bit of a black hole – which is why the rise of digital ticketing has been so important. On top of cutting down on lines and eliminating the hassle of wristbands, there are many benefits to using e-tickets – not just at concerts, but any type of event. Digital ticketing eliminates the cost of printing paper ones – which customers are more likely to lose or damage – and reduces fraudulent and reselling activity. Additionally, it gives vendors a more efficient way to actually know who is coming in and out of the venue. These enhanced data profiles of guests enable more relevant targeting.
Although e-ticketing technology is a step in the right direction, many of the options available today (bar codes, QR codes and NFC) have their disadvantages. For example, they can quickly drain the batteries on mobile phones, require installation times and additional hardware, and only work with compatible phones.
Evolution of e-ticketing
This need for quick access, instant connectivity and seamless convenience has given rise to LISNR's Smart Tone Ticketing.
"Smart Tones transform live events into meaningful experiences."
"Our vision for ticketing is a marriage between the contact list world and the mandate that we have from companies, which is make connections as simple and easy as possible," explained LISNR Director of Customer Success Jillian Zatta.
Using ultrasonic, inaudible data over audio communication technology, these high-frequency Smart Tones act as connecters between mobile apps and digital devices. They elevate what is possible for in-venue engagement because they eliminate many of the issues commonly associated with popular technologies today, such as poor connectivity and limited coverage range. They don't require any particular hardware, nor do they need Bluetooth, Wi-Fi or data. The only thing a device needs for the Smart Tone technology is a speaker and microphone.
Like it did for so many guests and vendors at the Budweiser Made in America music festival, Smart Tones have the ability to turn a live event into a meaningful and memorable experience.